Business | Benjamin Kane
Co-sourcing not outsourcing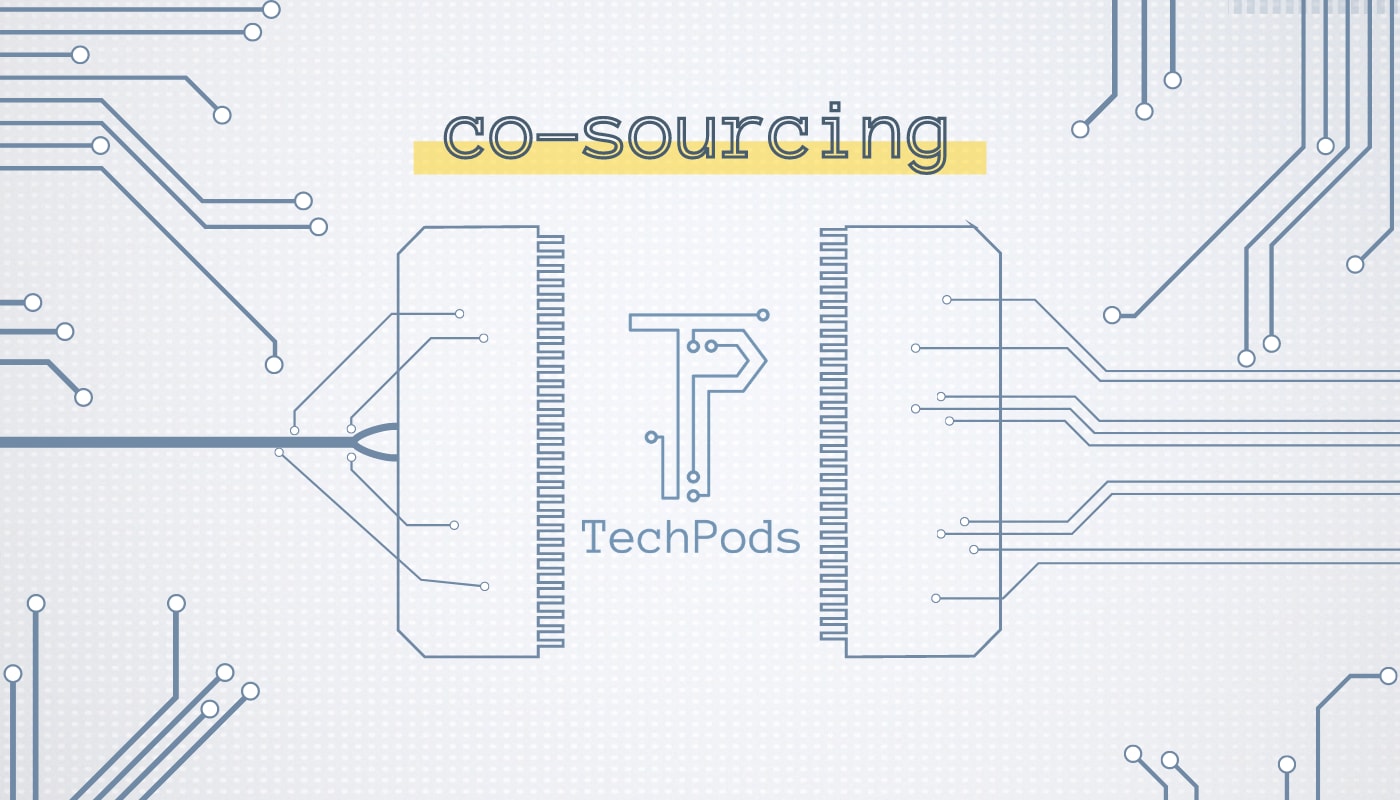 What is co-sourcing?
Co-sourcing is a strategic, and sustainable type of outsourcing which enables organisations to mitigate risk, and reduce costs while maintaining a mutually vested interest in the outcome of the collaboration with their co-sourcing partner. This sustainable, long-term collaboration model is characterised by a high degree of trust, close cooperation, increased strategic alignment, shared risks, shared value and greater knowledge exchange.
In practice, co-sourcing is best described as a partnership, as opposed to vendorship, in which the technology team management and service provider create workgroups that collaborate with internal employees in pods, resulting in an overall improved business performance.
Co-sourcing vs outsourcing
Co-sourcing
Client-side organisations have full control over team structure, from recruitment to daily workload management
Controlling the quality of tech resources results in improved performance, predictability of work quality, and timelines
Co-sourced employees adapt to client-side company culture, standards, and methodologies
Co-sourced employees gain a sense of ownership, and accountability for successes as well as failures
The co-sourced team builds up a unique knowledge base specific to client-side business operations, software tools, products, and services
Invaluable relationships organically form between both co-sourced employees and internal resources as they both share the same goals and objectives
Co-sourced employees are an extension of the internal employee base, preserving business confidentiality

No ramp-up time required for new projects as the co-sourced team retains knowledge, and already understands the company's strategic vision

Outsourcing

Vendor manages and control team members, and their daily workload with no direct loyalty to client-side team

Resource quality is unknown, resulting in unpredictability across project quality, and timelines
Outsourced employees are loyal to vendor company culture, standards, and methodologies - usually juggling various projects for various clients at a time
Outsourced employees have no sense of ownership or accountability
There is no prior knowledge of business operations, and sometimes even tech stack. Every new project can expect to lag because of the repeated learning curve, which heavily hinders productivity
Vendor is the main recipient of client-side organisational knowledge. Knowledge transfers are possible via various knowledge sharing techniques, but tacit knowledge is lost
Confidential information could potentially be leaked to competitors on subsequent projects

Company vision for team alignment must be shared for every single project
When should a company consider co-sourcing?
For many companies, new models of collaboration are becoming essential to fulfill outsourcing goals and expectations, including flexibility and cost savings, innovation, growth, brand protection and access to both talent and new markets. Hiring high quality tech resources internally is extremely challenging and becoming increasingly expensive, with many companies finding themselves locking horns with much larger organisations, making Co-sourcing the most effective solution. Companies should consider Co-sourcing if:
You want full control of your software engineering functions
You want to retain and leverage corporate knowledge within the organisation
You want a win-win relationship with a competent partner that adds value to your business and shares your business values
You want real time and authentic knowledge about performance
You do not want recurring price negotiations due to scope changes in a rapidly changing business environment
Your outsourcing needs are continuous, contributing to the long-term success of the company, as opposed to quick-fix
You want to build a competitive advantage by creating a global-minded, strategic organisation
You want predictable, fixed costs which you can fully control
To summarize, there are distinctive differences between Co-sourcing and outsourcing methodologies, and those forward-thinking companies that embrace a more modern approach, will be the ones who reap the biggest rewards as they gain significant, and sustainable competitive advantages within their market.
If you're interested in learning more about Co-sourcing, and the potential value this approach can add to your business, please contact Benjamin Kane - ben@techpods.co