Business | Mario Ivanov
How TechPods tackles the UK digital skills shortage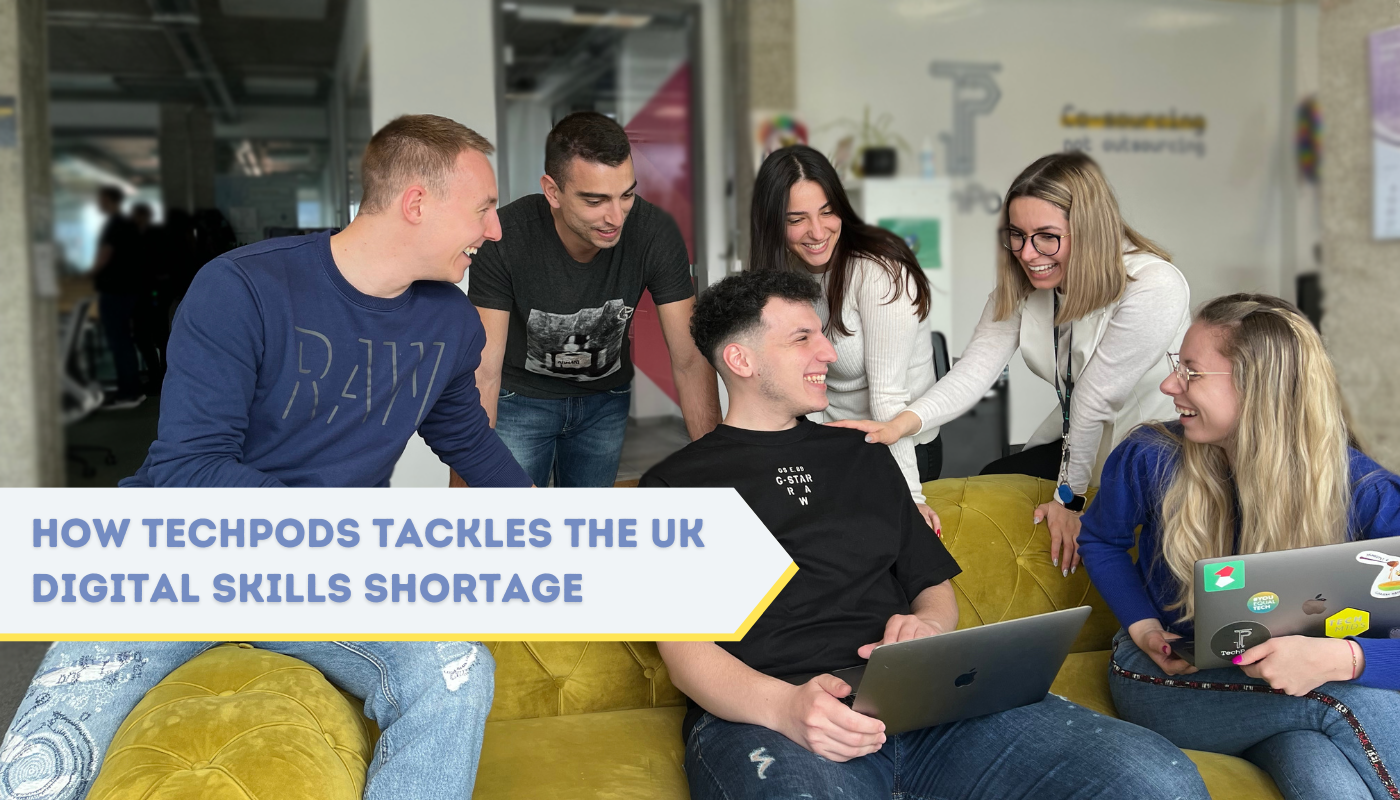 With Brexit and the Coronavirus crisis impacting the UK economy greatly in the past few years, it has become apparent that digital skills will have a huge impact on the nation's status as a world leader in tech. Meanwhile the TechPods co-sourcing model is as close as you can get to having an in-house team while still being able to enjoy all the benefits of tapping into a market of top-tier tech talent.
In the UK, the digital skills gap has been a significant issue for many years, with research indicating that it is continuing to grow. A report from the House of Commons Science and Technology Committee found that the UK's digital skills gap was costing the economy an estimated £63 billion in lost GDP.
The digital skills gap in the UK is affecting businesses of all sizes, with small and medium-sized enterprises being hit the hardest. 72% of businesses in the UK have vacancies for workers with digital skills and more than two thirds (68%) find it challenging to hire the digital workers they need – which 45% attribute to a shortage of qualified applicants.
Organizations are struggling to recruit skilled workers due to the competition from larger companies and the high cost of recruitment. This lack of skilled workers is hindering their ability to innovate and grow, leading to a stagnation in their productivity and overall scalability. 
According to UKTN, 81% of UK business owners report that the digital skills gap is hurting their business. The report found that around 22% of employees admitted a lack of digital skills was impacting their ability to hit targets and more than half (58%) said they had received no digital training from their employers.
For the better part of a decade, we have successfully positioned TechPods as a trustworthy partner for sustainable growth, helping British companies cut through the noise in the increasingly competitive and scarce market of tech talent. Our flexible approach enables businesses to access the digital skills they need without the high costs associated with recruitment and retention. This transparent approach also allows businesses to scale their tech resources in both directions as needed, providing them with the agility they need to adapt to changing market conditions.
By sharing a vested interest in our partners' success, we can focus on transparency, quality and speed, therefore we provide professionals that are fully integrated into the partner's team, and their skills and expertise are utilised to their full potential. 
It has never been easier to scale your team effectively, and with minimal risk. The digital skills shortage doesn't have to hurt your business, with lead times taking forever and costs going through the roof. Your team can have that senior developer they have been needing so desperately within weeks.
TechPods gives you access to a booming tech sector with professionals handpicked for your team, with the right skills and culture to make an immediate impact.
Don't let the digital skills gap hold your business back. Take action now and stay ahead of the curve!
Email us at hello@techpods.co for more information.